All karabiners used for arboriculture – whether climbing or rigging – must meet specific safety standards relevant to the country of usage. In the UK, karabiners must conform to EN362:2004 Class B with an appropriate safe working load which will vary depending on whether the karabiner is being used for PPE purposes or for rigging.
Homing in on karabiners for PPE purposes (ie, tree climbing), these are made from aluminium, should have a three way locking gate, and must be rated to a Minimum Breaking Strain (MBS) of 20kN or more according to the EN362 standard.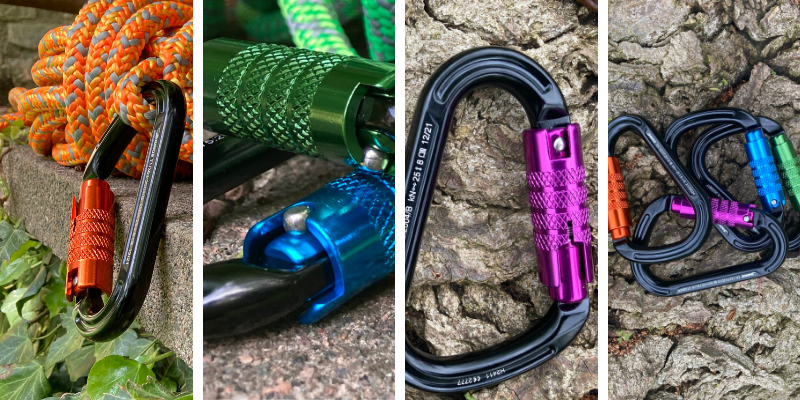 In addition to relevant EN standards for arboricultural equipment, the Arboricultural Association has set out an ICoP (Industry Code of Practice), which includes guidance for effective management of equipment and safe working practices. Within this publication, last published in May 2020, is a statement that Connectors must have an MBS of at least 22kN. The Arboricultural Association have recently acknowledged, however, that there is a misalignment between their code of practice and the EN standard, and have therefore issued a statement to bring their recommendation into line with the internationally recognised EN362 specification. To quote:
'The 22kN value as stated in the ICoP is a figure that we believe should be amended to mirror the EN Standard, i.e. 20kN. The ICoP and the Technical Guides will be revised in due course (for release 2025), but the Association wishes to clarify that a MBS of 20kN (approximately 2,000kg), as in EN 362, with an appropriate safety factor applied (typical 5:1) is considered to provide an adequate Safe Working Load for normal arboricultural use in a PPE context for tree work at height.'
You can read the Arboricultural Association's full notice here.