As the excitement of the Arb Show settles, we take a moment to reflect on the experiences and highlights of this memorable event.
Westonbirt Arboretum, the picturesque location of the Arb Show, set the exhibition off to a fine start with hundreds of its majestic trees in full bloom, creating the perfect backdrop for such an event. With heavy rains prior to the show, potential ground conditions were giving some cause for alarm as the weekend approached but luckily, the weather dried up and the two days of the show were mostly fine, albeit a little muddy!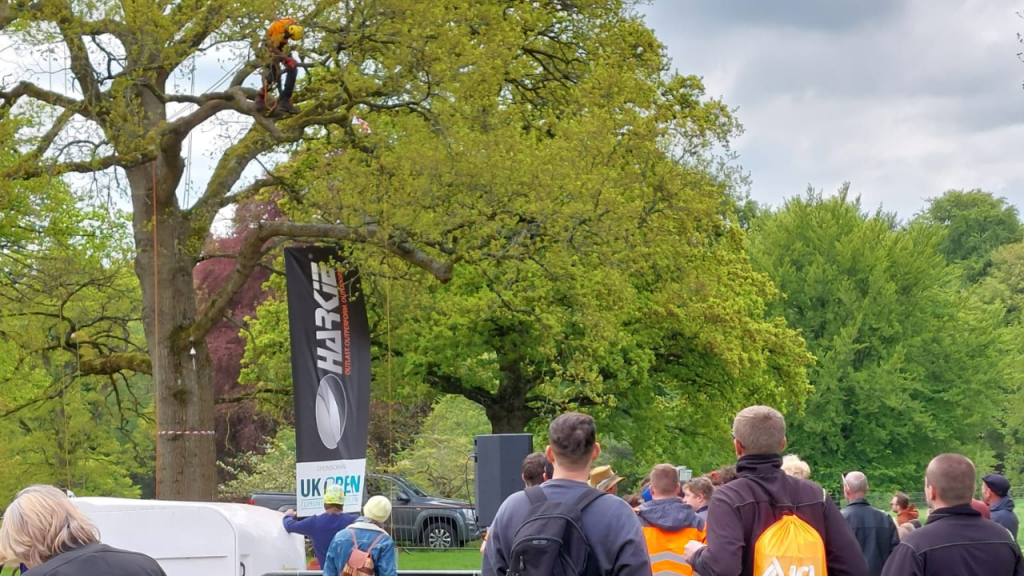 As ever, the competitions attracted much enthusiasm and friendly rivalry – the throwline competition in particular was very entertaining and well attended, with some pretty awesome throwing skills on show! Sponsoring the open climbing competition at the Arb Show was a fantastic experience, and we felt honoured to support such a dynamic event that symbolises the skill and passion of climbers in the arb community.
The knot tying competition was also an entertaining display of speed and dexterity as arborists swiftly and confidently tied complex knots in seconds. This year's winner managed to beat the previously held 5-year record, with the challenged being completed in an incredible 15.25 seconds!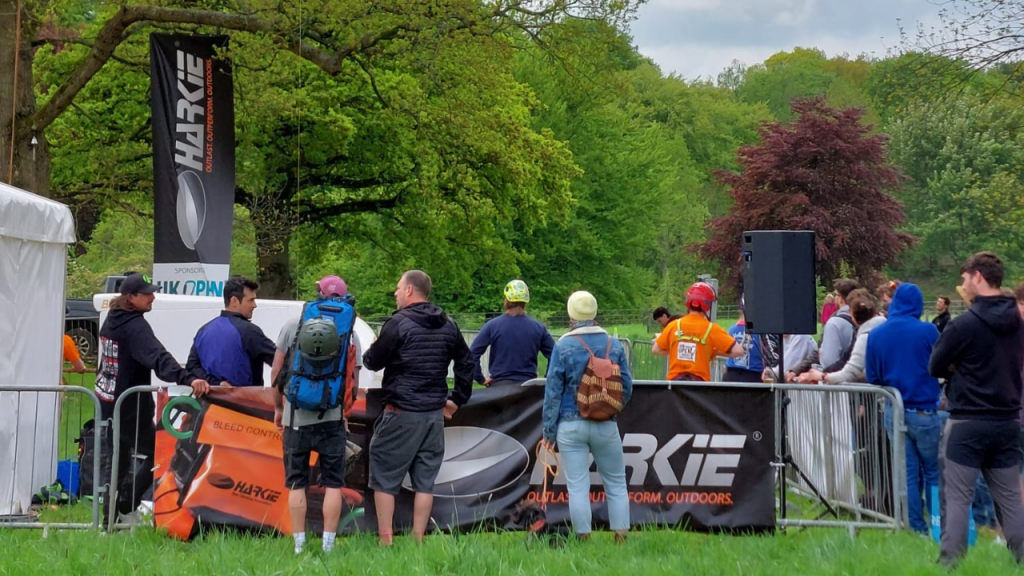 As usual, we can't go too far into such an event without a mention of the all important subject of food. Whilst we weren't all ready for a burger at nine in the morning, the food vendors catered for those who were, and were hard at work from early until late taking care of the nosh side of things. From succulent burgers to hot and tasty jacket potatoes, there was no lack of good food, whilst the ever popular beer tent provided a vibrant hub for visitors to unwind and socialise.
The Arb Show attracted families and peer groups alike. The friendly atmosphere provided a highly enjoyable event for all ages, dogs included, and we think it would be fair to venture that if the canine community were to comment then they certainly would have put in some glowing reviews!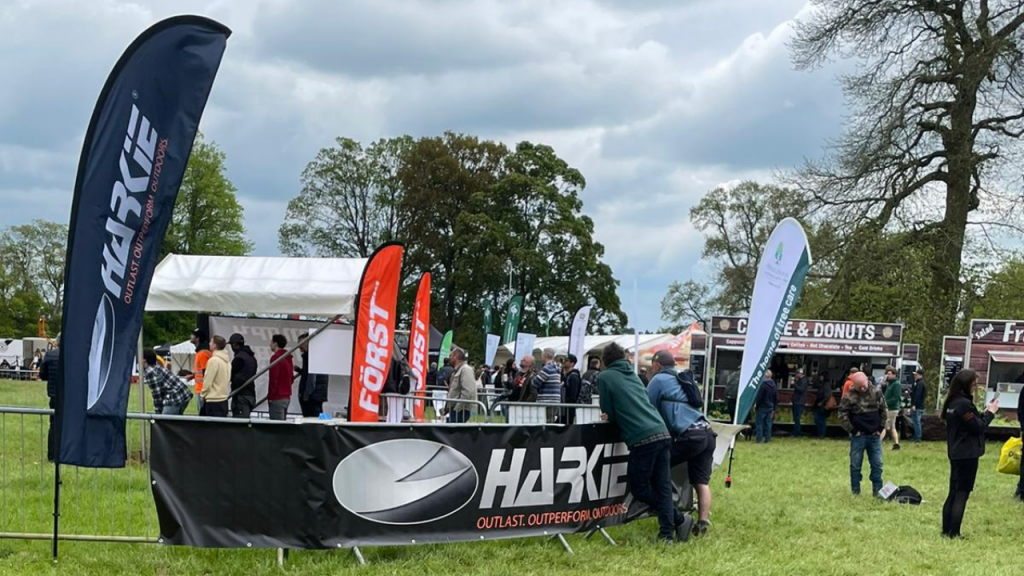 Exhibiting at the Arb Show was an amazing experience, allowing us countless opportunities to network with the vibrant arb community alongside showcasing the Harkie brand. Engaging with customers – both existing and new – allowed us to gain valuable insight and feedback, and to further strengthen our commitment to understanding and meeting the needs of end users. Our expanding collection of waterproof smocks, jackets, and trousers, our line-up of climbing and rigging equipment, and our comprehensive health and safety range was all on show and we appreciated the chance to be a part of this remarkable event and contribute to the continued growth and advancement of our industry.
Our Heftyflex rigging rope competition generated much engagement and interaction amongst our visitors, with participants guessing the meterage of rigging rope used in our somewhat eccentric display!  We also unveiled our Sentry rope bag, marking its official launch on Friday – an ultra-stylish, reliable and efficient solution for carrying and organising ropes and gear.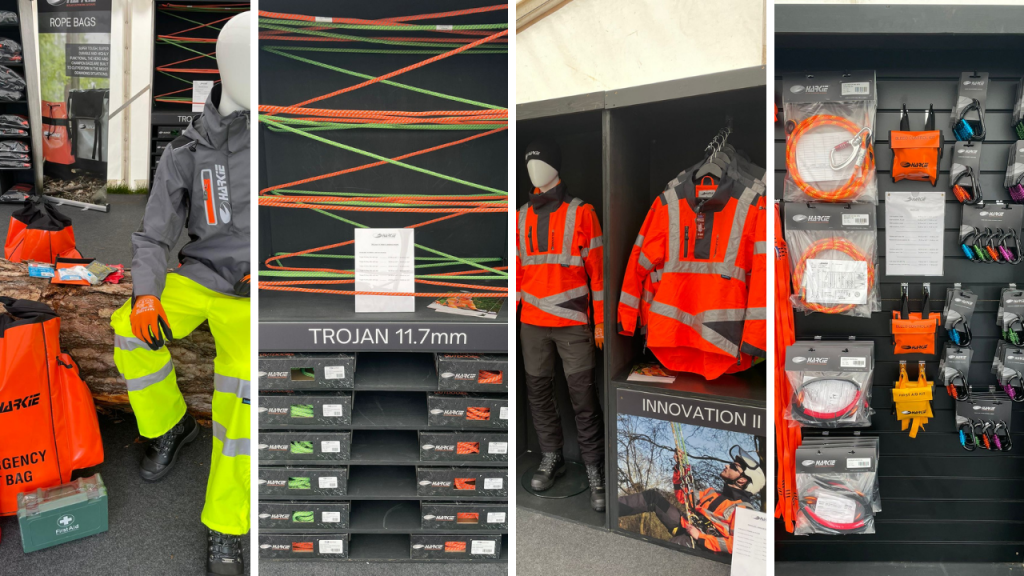 The Harkie team extend their gratitude for the support, engagement, and enthusiasm shown by everyone at the Arb Show 2023. Here are a few thoughts shared by the team:
"It was a really positive atmosphere and a great chance to give and receive feedback on our products, make new connections, and talk to end users about our increasing range."
"The show was a great success and we got to meet so many lovely existing and new customers. Westonbirt Arboretum is a superb location and I am very much looking forward to next year's event!"
"The Arb Show is always a fantastic opportunity to connect and network with the arb community, and once again 2023 delivered just this. Here's a special thanks to the Arb Association for bringing this event to us and for giving us the opportunity to sponsor the Open Climbing Competition, and thanks to the many visitors who took time to come and connect with Harkie!"
"Manic! Great to see new faces and share our enthusiasm for the Harkie brand."
We look forward with energy and enthusiasm to the next Arb Show!